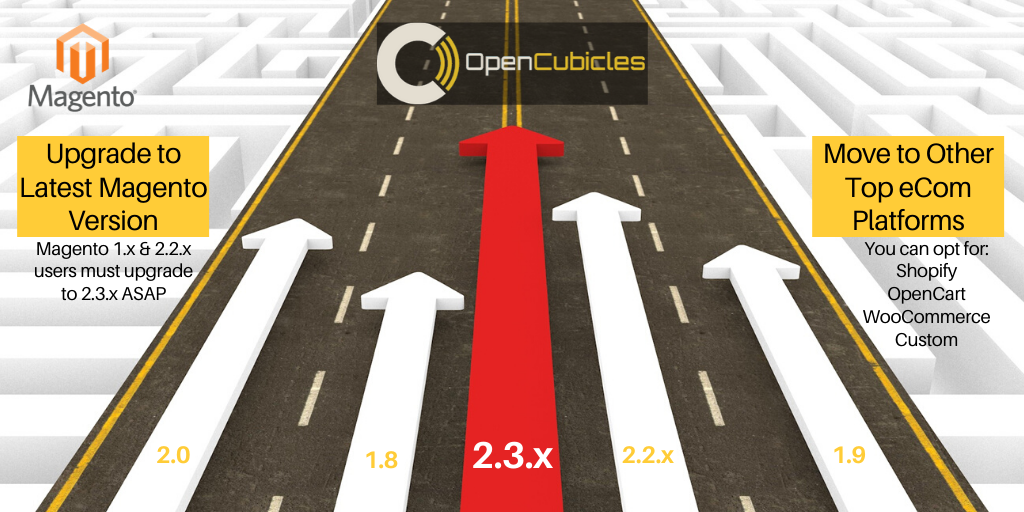 Get in touch with us today for a FREE Quotation for Magento Upgrade!
Want to discuss your requirements right away?
In October 2019, Adobe announced end-of-support dates for a number of Magento versions. In order to avoid any system and security issues, Magento 1.x & 2.2.x users must upgrade to a newer version, or consider another ecommerce platform.
Official security updates won't be released for Magento 1 Enterprise & Open Source versions beginning June, 2020, hence making these totally unsupported. It will be extremely risky to rely on infrequent updates provided by the open-source community thereafter.
Not only this, Adobe announced end of upport for Magento Commerce 2.2.x on December 31, 2019. Online retailers using Magento Commerce 2.2.x should upgrade ASAP to Magento Commerce 2.3.x to mitigate security risks & benefit from new features. Also, PCI compliance issues may crop up for estores running Magento Commerce 2.2.x due to the end of support for PHP 7.1.
In eCommerce, security is of paramount importance. If online retailers using outdated Magento versions do not upgrade or migrate by the announced deadlines, their business will be running on unsupported & unsafe software, making them extremely vulnerable to security breaches, hacking & disruptions. Hackers & cybercriminals usually have a plethora of hacking tools that target outdated installations, and eCommerce sites running unsupported Magento versions would be easy targets for cyberattacks. Therefore, eCommerce operators using Magento 1 should immediately look at alternative options powering their web stores, including upgrading to Magento Commerce 2.3. But all this is not as simple as it seems – etailers can't just upgrade by installing or replacing some files as Magento 2 is actually a totally novel platform – a lot of work will go into creating what would almost be a new website with all its nuances, customizations & features. The security risks associated with out-dated platform make this change unavoidable, even if it is expensive & time consuming.
We can help you with a Magento upgrade or migrate your online business to a competitive ecommerce platform of choice in the most cost-effective & timely manner.
Choose your preferred option for migrating from Magento 1.x/2.x and click on the downward arrow to know what all is included in the standard migration & development package.
FREE WORKSHOP FOR CTOs – "MAGENTO END OF SUPPORT – UPGRADE & ALTERNATIVE OPTIONS ON 15th MARCH, 2020
TIMINGS: 12 pm to 3 pm
VENUE: OPENCUBICLES TECHNOLOGIES PVT. LTD., 907, 9th FLOOR, B-WING, VIPUL SQUARE, SUSHANT LOK-1, GURGAON
RSVP: +91-9910800598
BOOK YOUR SEAT ONLINE AT https://www.townscript.com/e/free-workshop-magento-upgrade-guidance-gurugram-mar15
Why should you upgrade from Magento 1.x.x/2.2.x?
Magento Upgrade Services