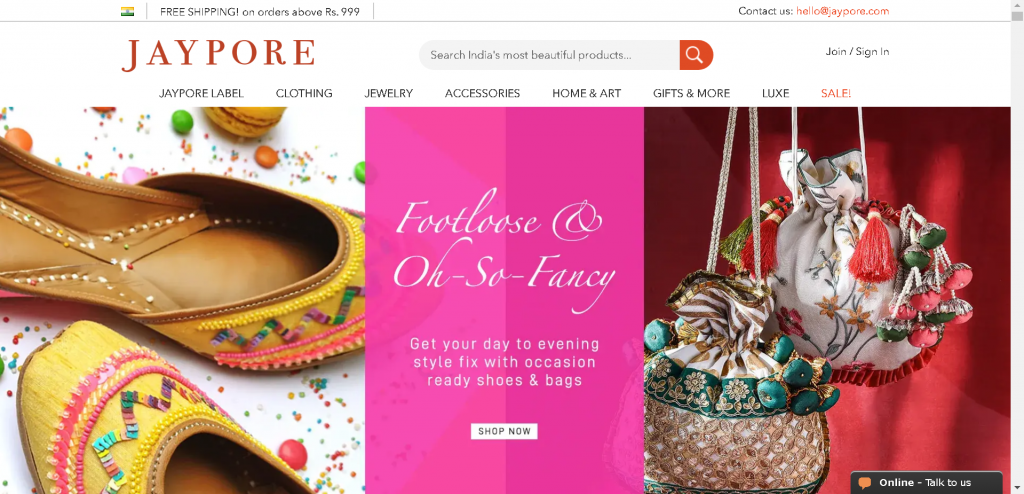 Client Profile

Jaypore, now part of Aditya Birla Fashion & Retail Limited, is a globally renowned ethnic apparel & accessories retailer. From another dreamy-eyed Indian ecommerce startup established in 2012, Jaypore went on to be the torchbearer of Indian ethnic products in the US & grow at more than 5000%. We proudly share our experience of powering this impressive growth.

Client Requirement/Business Problem

Jaypore had begun their ecommerce journey with an iPad app powered in the background by an ecommerce engine developed using Magento. It had successfully differentiated itself from other ecommerce portals with great user experience & well selected product niche. Given the impeccable execution capabilities of the core team, Jaypore started seeing great traction & tremendous growth. This growth, however, brought its own learnings & challenges. Jaypore's CEO, Puneet Chawla, quickly realized that they had to be prepared for such trail-blazing growth and set out to find & implement solutions to the following business problems:

Improving the app response time to international standards
Upgrading technology infrastructure to match anticipated business growth
Ensuring app cloud infrastructure security
Implementing ERP & CRM integrations
Process Improvement & Automation
Marketing automation tools implementation
Needless to say, being an ecommerce start-up operating in the highly competitive landscape dominated by discounts, freebies and cost optimization, not to mention, investor priorities, Jaypore wanted the solution to these problems at the lowest possible cost.

Enter OpenCubicles!
Solutions Proposed & Implemented

Our team of web development, usability & cloud experts analyzed the app frontend as well as engine to identify lag causing elements that could be removed, optimized or replaced. We fine tuned a number of aspects to improve the response time to international standards.
Being a self-funded start-up that was seeing traction and constantly growing traffic, Jaypore saw the ever-increasing cloud hosting bill from the premium cloud infrastructure provider, AWS, as a major sustainability issue. Our expertise in implementing and maintaining cloud based apps at lowest possible costs came in handy; we helped them to cut down their cloud infrastructure cost by 30% by thorough analysis & optimization of different AWS services being used by them.
Any ecommerce solution needs to be extremely secure due to financial as well as privacy concerns. Jaypore was accepting payments online and shipping abroad from India, and needed to assure its customers of 100% reliability both in terms of security and smooth, seamless transactions. We analysed the payment processing aspects as well as audited the security of the app. The solutions implemented thereafter led to world-class app security and conversion optimization.
Initially, a large number of operational processes were either manual or required extensive human intervention. This had the potential to be the weakest link in the supply chain as Jaypore was seeing explosive growth. With the help of technical integrations with CRM and ERP, we automated many aspects of operations & customer service, leading to saving of time and money.
Jaypore had a growing customer base and wanted to ensure that it lacked nowhere on both customer acquisition as well as retention. One of the focus areas was to utilize every potential customer touchpoint across all available communication channels to service and delight the customers. App push, SMS, email marketing, notifications and marketing process streamlining was key for Jaypore to improve conversion as well as CLTV. We identified and integrated the best-in-class tools for marketing automation (eg. Clevertap) and optimized the entire marketing workflow for Jaypore.
We are proud to be part of the Jaypore growth story and continue to support them in their endeavour to be at the fore-front of ecommerce excellence!